OUR MISSION
Nantucket Disc Golf is an IRS 501(c)(3) fully non-profit organization whose mission is to promote the mental and physical well-being of the youth on Nantucket by providing a healthy, inexpensive, family-friendly, year-round recreational alternative.
Nantucket Disc Golf feels strongly that disc golf is an activity that fits in quite well with what Nantucket needs and we look forward to installing and maintaining the course, and promoting the sport of disc golf on the island for years to come.
NDG-IRS 501(c)(3) Approval Letter
FREQUENTLY ASKED QUESTIONS
What is disc golf and where can I learn more about it?
Disc golf is a fast growing, easy to learn outdoor activity that can be enjoyed by everyone. Similar to golf, the object of disc golf is to complete each hole in as few throws—or strokes—as possible. Instead of using golf clubs and a golf ball, disc golfers use a flying golf disc to traverse the hole. Each hole starts with a teeing area and is completed once the disc lands in the "hole", which is a disc-catching target. While disc golf can be played with just one golf disc, the discs are designed to fly with different characteristics. Different discs can be used to hook and curve around obstacles, roll on the ground, or fly over trees. Much like golf, disc golf is full of joys and frustrations. Whether you throw that first long drive or hit the first tree off the tee, you are sure to have fun!
As far as the cost to play is concerned, well, the discs are only about ten dollars each and you only need one disc to play! Most courses are free, including the Nantucket Disc Golf Course, and there are never any tee-times to worry about.

Disc golf can be enjoyed at any time of day as the course is always open, and at any time of year, as the game can just as easily be played in a t-shirt and shorts as it can in jeans and a jacket. Regarding the dress code, well, you can always wear whatever you like to play disc golf. And you can bring your whole family out with you to play, even your dog!
Please visit www.pdga.com, the home of the Professional Disc Golf Association, for more information. There, you can learn more about disc golf, look up courses in your area, and much more.
What is Nantucket Disc Golf?
Nantucket Disc Golf is a non-profit 501(c)(3) organization that was founded in the summer of 2008 with the goal of bringing a disc golf course to Nantucket.
In 2012, Nantucket Disc Golf, with the help of local volunteers and donations to the organization, completed the installation of the course in the State Forest.

Nantucket Disc Golf currently maintains the Nantucket Disc Golf Course and works to extol the virtues of disc golf on the island through holding free youth and family-friendly disc golf clinics on the island throughout the year.

Nantucket Disc Golf has been featured in the Nantucket Inquirer & Mirror, the Nantucket Independent, the Nantucket Chronicle. Yesterday's Island, N Magazine, and on the Morning, Noon and Night Show on PlumTV.
Where is the Nantucket Disc Golf Course?
The Nantucket Disc Golf course is located at 21 Lovers Lane and is in the Nantucket State Forest South Pasture. This is the forest that is bounded by Old South Road, Lovers Lane and Rugged Road. This area is supervised and maintained by the Massachusetts Department of Conservation and Recreation and the Town of Nantucket's Wannacomet Water Company.
What are Nantucket Disc Golf's hours?
We are open sunrise to sunset, 365 days a year.
What is the cost to play?
There is no cost to play. If you'd like to donate to Nantucket Disc Golf though at some point down the line, we'd be very happy to accept your donation.
What do I need to bring to play?
You just need to bring one disc each to play. We do not sell discs at the course as we have no staff working there, but discs can be purchased downtown at The Sunken Ship at 12 Broad Street.
How do I begin play once I arrive?
At the parking lot, grab a scorecard and pencil from the information board and proceed to the first hole. Tee off from the long or short teepads. Just like ball golf, the player furthest from the hole goes next. Keep track of the throws made on each hole and the player with the lowest total score in the end wins. Be mindful of other players and neighbors, do your best to respect nature, and most importantly, have fun!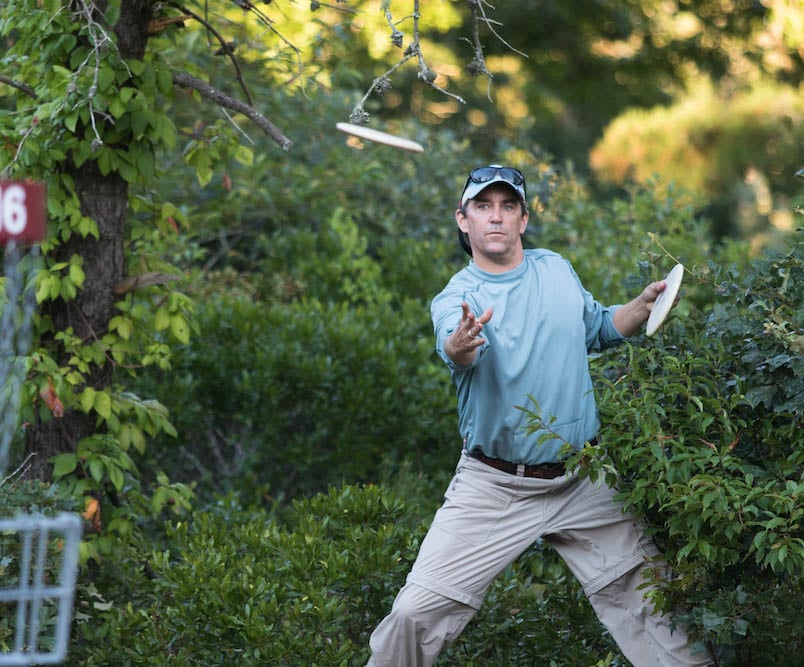 Mike Harter
Youth Program Director
A graduate of the University of Richmond and a long-time tennis coach on island, Mike has been working for NDG since its inception in 2012 to promote the sport of disc golf to the youth on Nantucket through the teaching of clinics at the course and at the various schools and youth organizations on the island. Mike's wife, Rebecca, also works to support the youth on Nantucket by feeding their bellies at The Hungry Minnow which she runs at Children's Beach.


THANK YOU

A huge thank you to Lowisa, John, David W, Brett, Mike H, Peter L, Sam, Fletcher, Peter D, Gerd, Anders, Mona, Matt, Eben, Tom, Tyler, Jon, Horace, Charlie, Ben, Mark, Phil, Noah, Rich, Jim, Derek, Mike G, Kevin, Rusty, Jeanne, Stu, Tomas and everyone else who volunteered their time to help build the Nantucket Disc Golf Course...