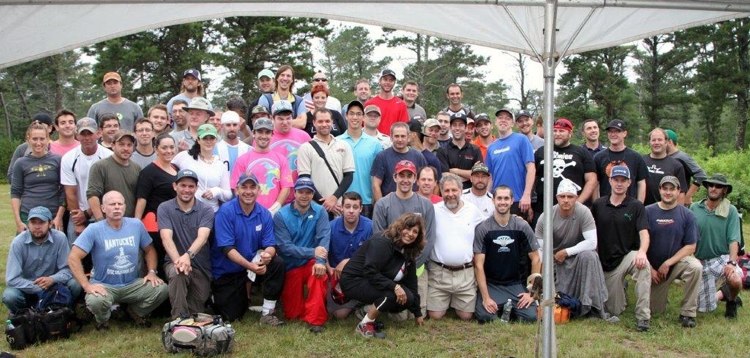 Had an UNBELIEVABLE time yesterday at the 1st Annual Nantucket Disc Golf Open! 72 players from across New England descended upon the Nantucket Disc Golf Course for two rounds of action-packed competitive disc golf.
In the Men's Pro Open Division, Andrew Tabaczynski and Cam Gallant were tied at an incredible 10 under par after the second round. Tabaczynski birdied the first sudden-death playoff hole with a beautiful birdie putt and claimed the overall NDG Open victory.
In the "Caddyshack-Style" $500 Top 4 MPO Winner-Take-All 3-Hole Playoff that followed, Jason Dore birdied the first two holes and then eagled #18 (a hole which only one player had BIRDIED all day) to claim the victory. An unreal and dramatic finish to what was an incredible first ever PDGA-sanctioned disc golf tournament on Nantucket! A big thank you to everyone who made this possible. And congratulations to all our other winners at the tournament. We'll see you all next year at the 2014 NDG Open. Can't wait!
2013 Nantucket Disc Golf Open Full Results:
http://www.pdga.com/tournament_results/103729/812885466
2013 NDG Open Pictures:
https://www.facebook.com/photo.php?fbid=539942566041591&set=a.539940916041756.1073741833.154119344623917&type=1&theater
2013 NDG Open Article in the Nantucket Inquirer & Mirror:
http://www.ack.net/DiscGolfOpen070313.html
First Place
Men's Pro Open: Andrew Tabaczynski
Women's Pro Open: Sarah Alves
Men's Pro Masters (40+): Michael Harter
Men's Pro Grandmasters (50+): Sean Breslin
Men's Advanced: A.C. Heyward
Men's Advanced Masters: Jim Blasi
Women's Advanced: Alicia Turcott
Men's Intermediate: Mike Gollin
Men's Recreational: Lee Chiang/John Cesario