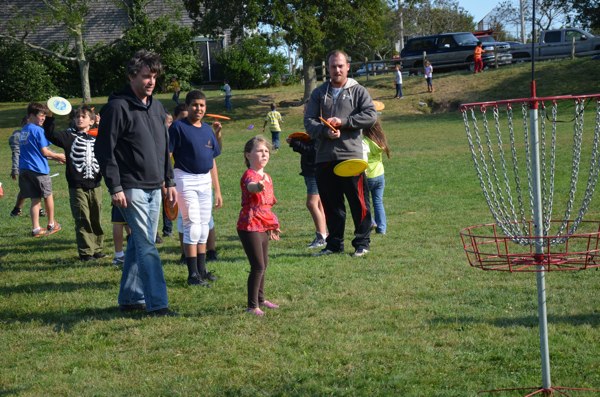 Nantucket Disc Golf is pleased to announce the hiring of Michael Harter from San Francisco, CA as our new Youth Program Director. Mike is an accomplished disc golfer, has many years of experience teaching tennis to youths, and is very excited about his new role in which he will promote disc golf as a healthy, inexpensive, year-round, recreational alternative to the youth on island.

In addition to his amazing first day on the job visit to the Boys & Girls Club today (thank you B&G Club!), Mike (pictured in the black sweatshirt) has plans to meet in the coming weeks with younger students at the Lighthouse School, the New School and the Community School to demonstrate the sport of disc golf and provide group driving and putting lessons. For those schools and youth organizations that are interested, Mike plans to follow up his initial visit with regular trips with these schools' students and teachers to the disc golf course, with the ultimate goal of helping establish self-sustaining disc golf programs within these schools and youth organizations.

Mike is also planning to visit with older children at Nantucket High School this week and next to demonstrate disc golf in the PE classes and to recruit students to be a part of a new NHS Disc Golf Club at the school.

If anyone has any thoughts on how Mike and Nantucket Disc Golf can better serve the community, please don't hesitate to reach out. I must say, after spending 3.5 years obtaining permission to install the course and spending 1.5 years installing the course, Nantucket Disc Golf is very excited about finally being able to focus virtually all our energies into fulfilling our original and primary mission to promote disc golf as a healthy recreational alternative to the youth on the island.

A huge thanks to Mike Harter for coming on board to help us begin the process of making this dream a reality.