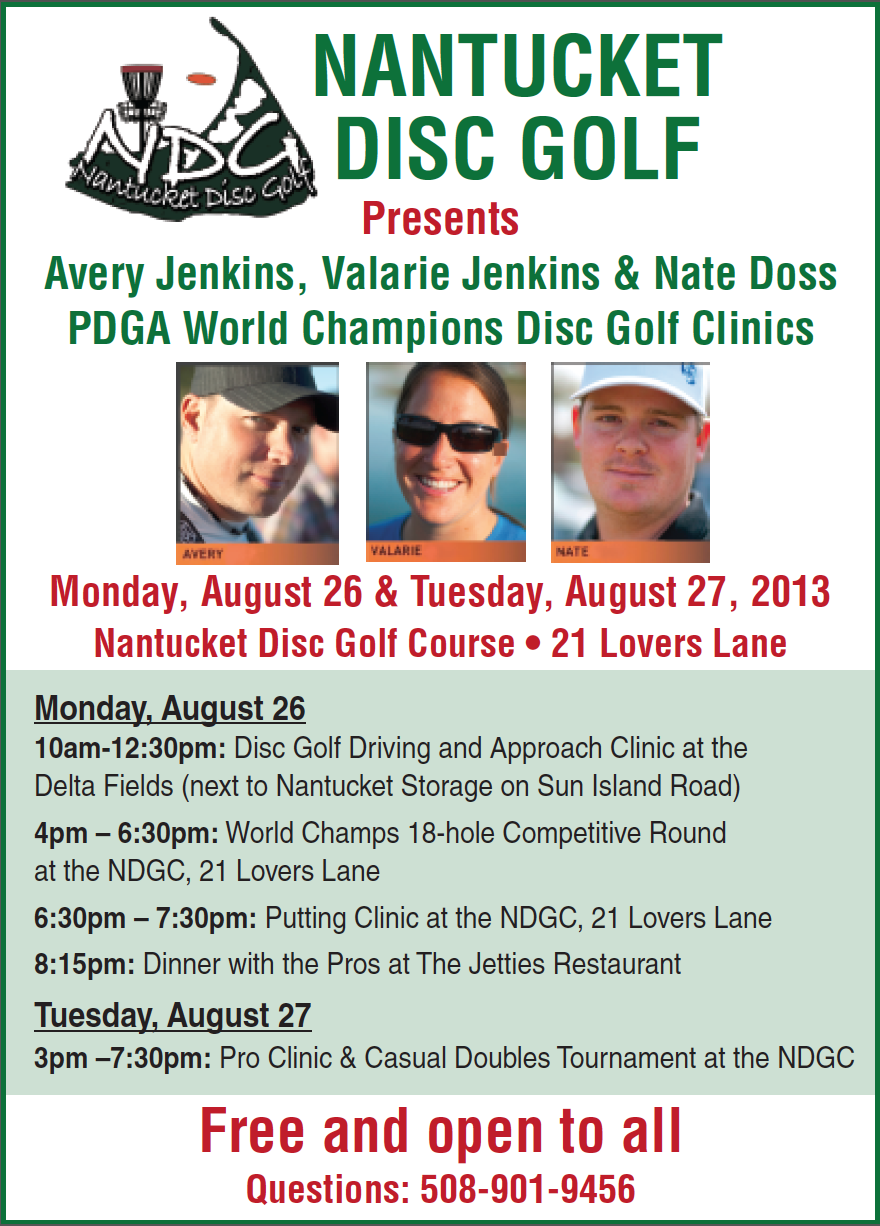 Avery Jenkins, Valarie Jenkins & Nate Doss
PDGA World Champions Disc Golf Clinics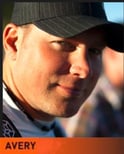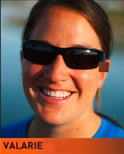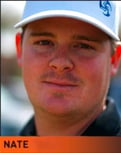 Mon, Aug 26 - Tues, Aug 27, 2013
Nantucket Disc Golf Course
Nantucket Island, MA
Free & Open to All
NANTUCKET (July 12, 2013) - Nantucket Disc Golf is pleased and excited to announce that three former PDGA World Champion Disc Golfers will be visiting the island next month and will be holding several disc golf clinics at the Nantucket Disc Golf Course that will be free and open to all.

Avery Jenkins (2009), Valarie Jenkins (2007-2009) & Nate Doss (2005, 2007, 2011) are all legends in the world of disc golf, having won a combined 163 PDGA tournaments, including 20 Majors and 36 National Tour events as of the end of 2012. Members of the "First Family of Disc Golf", Avery and Valarie are brother and sister, and Valarie and Nate are long-time partners.

We are so excited to have these legendary disc golfers out to Nantucket during our inaugural year and we encourage everyone, regardless of skill level, to come on out and take part in the clinics and learn more about the amazing sport that is disc golf. To cater to all skill levels, beginner-, intermediate- & advanced-level clinics will be held over the course of the two days.

Further details on times for the clinics will be announced shortly, but in the meantime, if you're interested in joining us, I'd look into the possibility of taking that Monday or Tuesday off from work so you can attend the clinics and perhaps play a round or two with the pros. This is a once-in-lifetime opportunity to learn from three of the absolute top professionals in the history of the sport at our very own, world-class 18-hole Nantucket Disc Golf Course. Don't miss out!