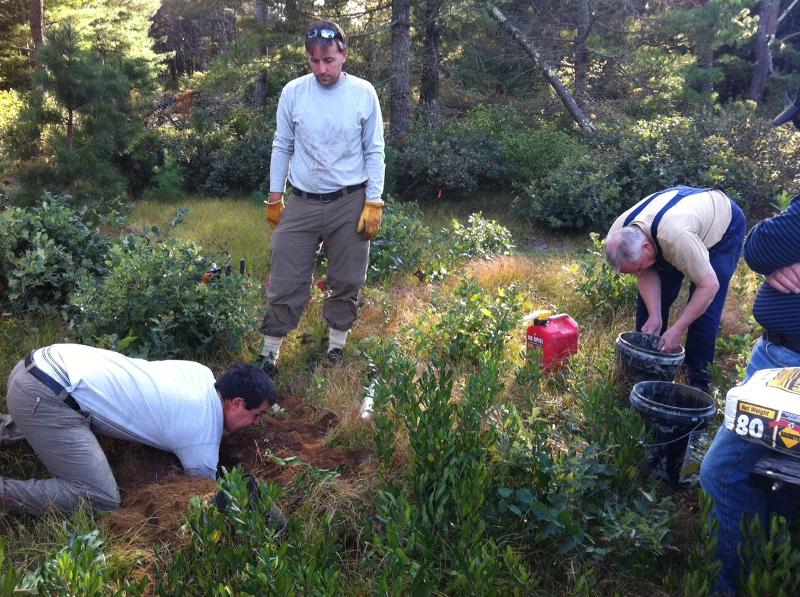 Hello NDG Friends!

Almost done with the chipping...just a couple of holes left. A big thanks to Sam and the crew for their hard work over the past week.

Went out with my family and installed eight of the basket sheaths in concrete earlier this week, so all that's left is assembling the baskets, dropping them in the sheaths and locking them up. Then we'll have eight baskets fully installed on the north side. The final hole on the north side is yet to be cleared but we hope to get that done within a month.
In other news, we've awaiting the arrival of a sample of a rubber from a company called Fly18. Fly18 is the premier maker of rubber teepads and pending our being satisfied with the quality of the sample, it looks like we will be purchasing 18 of these teepads for installation on the north 9 holes of the course.

Finally, I wanted to let everyone that if you haven't seen it yet, Nantucket Disc Golf was featured in this month's N Magazine. A great article that sums up well what we're bringing to the island...a fun, free, family-friendly recreational alternative that can be enjoyed any time of year.

Check it out HERE... (no longer hosted)

It turns out I'm headed off island for business for a couple of weeks. Looking forward to returning in early October and to installing the rubber teepads, and to mowing and getting the north nine holes open by the end of the month.